Tucked in between Tibet, Nepal and Bhutan on three sides and the Indian state of West Bengal on the other, Sikkim is a land of beauty and wonder. Home to the highest mountain peak in India, Mount Kanchenjunga, Sikkim is rightly considered to be the trekker's paradise. There are several beautiful trekking trails on all four sides of the tiny state, which are extensively covered by tour operators in Sikkim. Let's take a look at the five most beautiful treks to experience this year.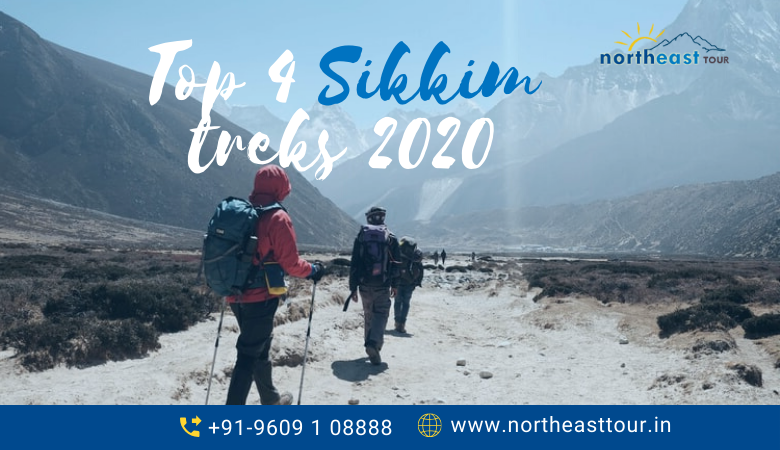 Top 4 Sikkim treks 2020
1. Goecha La Trek
The spectacular Goecha La Trek takes you to some sensational mountain vistas. It covers 14 critical summits of the Sikkim Himalayan range, such as Mount Pandim, Mount Jopuno, Mount Thingchinkhang, and of course, the magnificent beauty of Kanchenjunga. Although it's a reasonably tough terrain to cover, this trek is a favourite among the veterans and can be done between March and May and again from September to November.
Altitude: 4939 metres
Difficulty: Difficult
Base Camp: Yuksom
2. Sandakphu Trek
Sandakphu is the highest peak of the state of West Bengal, located in the Singalila Ridge. But the mountain can be easily accessed from Sikkim, and it is one of the most enriching trails of the region. The entire road up to the peak is dotted with bright red Rhododendrons through several quaint, hilly villages such as Meghma, Tumling, Garibas and Kala Pokhari. On a clear day, from the top of Sandakphu, one can get a glimpse of the highest peak Mount Everest in Nepal, as well as Lhotse, Makalu and Kanchenjunga.
Altitude: 3636 metres
Difficulty: Moderate
Base Camp: Mane Bhanjang
3. Varsey Trek
The Varsey trek is considered a great option by tour operators in Sikkim for the offbeat trekkers. It takes you through heart-wrenchingly beautiful passes covered in endemic flora and fauna. Bright rhododendrons and other wildflower bushes will keep you company on the way up, as well as hundreds of exotic, high altitude birds. You will break not much sweat in this trek, so it is perfect for beginners and amateurs as well. The summit is near the Indo-Nepal border, which is a plus.
Altitude: 3060 metres
Difficulty: Easy
Base Camp:Damthang
4. Rhododendron Trek
If you are more into exploring nature rather than treading treacherous hilly paths, then this is the ideal trek for you. The trail is lined with scented flower bushes of all kinds, and the most scenic panoramas present themselves as you walk forward through lush green meadows and lovely little Sikkimese hamlets. Spring is the best time for this trek, between March and May.
Altitude: 1728 metres
Difficulty: Easy
Base Camp:Yuksom
Northeast Tour is among the leading tour operators in Sikkim, who have excellent trek packages to offer. They provide excellently curated itineraries, professional trek guides, and a pocket-friendly budget to fit a marvelous experience in. There are many other short and long trekking expeditions that can be made in Sikkim. All you need is the heart willing to go on an adventure.