India's North-East harbours many beautiful mysteries. The old Baba Harbhajan Mandir is one of them. In this informative today, North East Tour would like to share with you about this fantastic legend that seems too good to be true! Scroll down to explore this fascinating tale of courage and bravery that will give you chills as well as inspire you from within.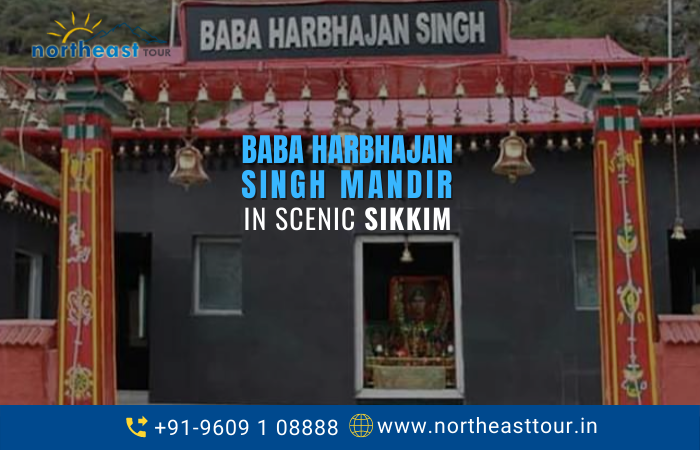 The Location Of Baba Harbhajan Mandir
Situated between Jelepla and Nathula, at an elevation of 13, 123 feet, Baba Harbhajan Singh Mandir or Baba Mandir is located 52 km away from Sikkim. The temple is covered on the way to visit Nathula Pass and Tsongmo Lake.
The Story Of Baba Harbhajan Singh
The mandir is dedicated to the unparalleled valour of Harbhajan Singh, a Sentry from Indian Army's Punjab Regiment. He was posted there with the border patrol force, near the China border.
In October 1968, the news of his sudden disappearance rang across. Many opined that while escorting the provisions carriage, he fell into a stream and drowned.
After a few days of his disappearance, it is said that he appeared in the dream of one of the colleagues and asked him to make a memorial in his name.
The Sentries built Samadhi as per his wishes, following which the temple was erected.
Baba Harbhajan Singh may not live anymore, but since that time till today, it is believed that his spirit is still living and protecting the border as well as his colleagues at the rugged terrain.
On many accounts, it has been said that Chinese soldiers across the border have witnessed a turbaned sentry who is conducted rounds in the night. It is from that incident; the people believe that the spirit of Harbhajan Singh comes every night.
If witness accounts are to be believed, it was seen that:
His bed sheets get crumpled every morning
And the polished boots get muddy every evening

The Memory Lives On Forever
Harbhajan Sing may have left for heavenly abode long back, but based on several witness accounts, his supernatural actions have made Indian Army believe in his patriotic valour. Honouring the love for his country, he has been promoted to the rank of Captain.
During his annual leave, his uniform is escorted to Siliguri with two soldiers who later on take it to his hometown. His family is still provided with the salary, even past his retirement age. So, make sure, the next time you take a trip to the scenic Darjeeling Sikkim tour, visit this wondrous memoir that harbours the story of a legend whose love for the country transcends beyond death.