When you hear a place being dubbed 'the Queen of the Hills', you really have to sit up and take notice. Darjeeling is a hill station in Northern West Bengal and has been frequented by tourists for many decades. There are so many beautiful places in Darjeeling that are worth seeing that you will feel that one trip might not even be enough to cover them all. When you are visiting this town, you should make sure to ask your tour operator in Darjeeling if they plan on taking you to see the places as listed below.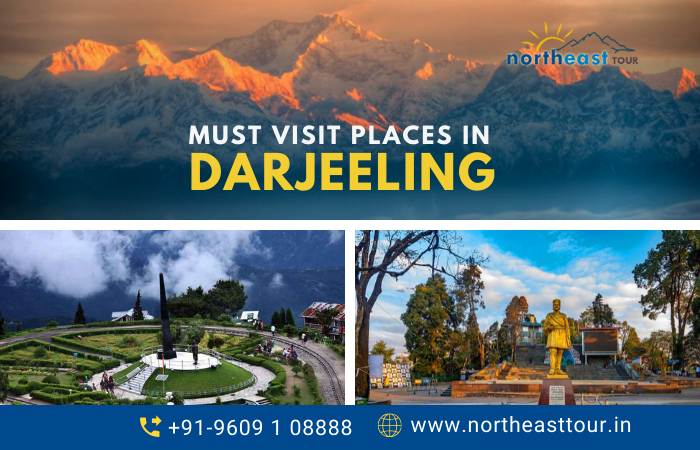 These are the Places in Darjeeling That You Should Definitely Visit
One of the places that you simply cannot afford to miss is the famed Tiger Hill. It is the highest point in and around Darjeeling and offers amazing views of the sunrise. You will be awestricken when you see the rising sun's rays bathe the Kanchenjunga in all its glory. If you happen to be lucky and go to Tiger Hill on a clear day, you can even witness Mount Everest. Tiger Hill is located at a distance of around 11 km from Darjeeling and is a 40-minute car ride away.
This famed loop of the Darjeeling Himalayan Railway can be witnessed rather easily, as it is situated around 5 km from the town. The toy train goes through a loop and experiences a sudden and sharp descent from the town of Ghoom. The place from where you will be seeing this is a beautiful one with perfectly manicured gardens, streams, falls and offers a panoramic view of the landscape of Darjeeling.
To come to Darjeeling and not seeing the ropeway can be a crying shame. You will be amazed at the views that are on offer when you take a ride on the ropeway. The beautiful valley below you will leave you simply mesmerised. The tea gardens that Darjeeling is so famous for will also be visible while you are taking a ride on the cable car.
Although there is not much to see in the area that has come to be known as Mall, you still should make sure that you visit this place. Basically, this place is an intersection of four roads, and you will always find it bustling with people. On one side, the Mall can be seen being lined up with pine trees and will offer you breathtaking views of the mountains. On the other side, you will see different types of shops; you can get a souvenir or two to take along with you.
These are the places that you have to make sure that you see while you are in Darjeeling. After all, it does not make sense that you would go to such a place and return without seeing the best it has to offer.