Sikkim is one of the most beautiful tourist destinations for nature lovers. Surrounded by snow-capped mountains and meandering rivers, Sikkim is a great place for adventure sports. Most people take up mountaineering while in Sikkim under the expert guidance of the travel agents in Darjeeling. The place is also home to Kanchenjunga or Khangchendzonga (8586 m), the third-highest peak in the World.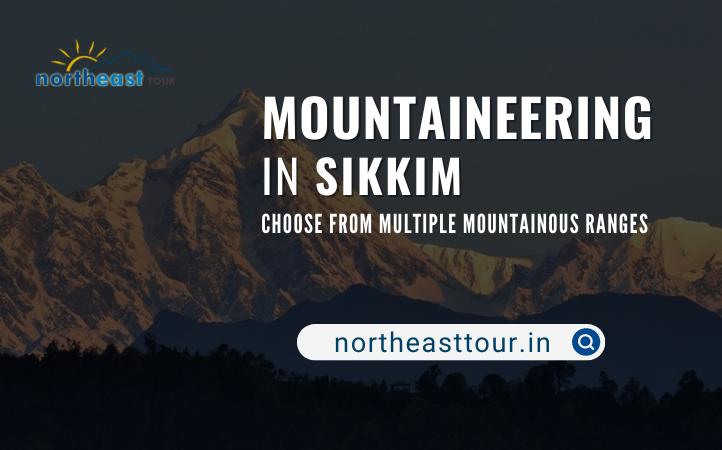 One thing that you notice about this place is the convenient location and heavenly beauty. Sikkim has several trekking trails, so people pack their climbing gears ready for an expedition. You can choose from multiple mountainous ranges here. The challenging peaks, therefore, make it an adventure worth trying.
Top 4 Peaks in Sikkim for Mountaineering
This is a mega mountain with an altitude of 5889 metres. It has a resemblance to the Matterhorn peak of Europe. You can enjoy the scenic view of the snow-clad mountains that makes climbing more adventurous. The rocky surfaces and gaps might make the task difficult, but the feeling is overwhelming. Situated in West Sikkim, you can reach the peak by booking a rented vehicle from the hotel to the destination. The best time to visit the peaks is between March to May and October to November.
Situated in Western Sikkim, Mount Jopuno has a height range of 5603 metres. This is an imposing peak that lies under the Kanchenjunga National Park. It is a primary attraction for mountaineers from all over the planet. The trekkers and adventure lovers can enjoy captivating scenes of the Sikkim Himalayan ranges. You need a permit to hike on this mountain, so the agent will help you get one. You can enjoy an amazing sight of the Goecha La, Yuksom and Thangsing as well.
Mount Jopuno is ideal for trekkers who need to satiate their hunger and contentment for mountaineering. It is advisable to visit during March, May, October and mid-November for a better experience.
If you want to spend a great adventure holiday in Sikkim, peak climbing at Lama Wangden is a wise choice. This Himalayan trekking trail bestows its beauty to the scenery and ambience. It is a pleasant trek filled with flora and fauna, lush vegetation, and more. If you take this trekking expedition, it will be a memory worth remembering.
This is one of the easiest and most comfortable treks in Sikkim. You can expedite it under expert guidance and supervision. The trails are exotic, running through the dense greenery and widespread snow cover. You get a stunning view of the snow-covered mountain top, making for a worthwhile memory. The peaks have a towering elevation of 5635 metres. The best season to visit is from April to October.

Consult Northeast Tour for affordable and convenient Darjeeling and Sikkim trip packages. Visit the website for further details.